Ashley
Before the pandemic, Ashley worked in marketing and attended cosmetology school, managing flexible hours so that she could care for her son as a single mother.
"My work hours were difficult and when the pandemic started, I was no longer able to work. I began my own freelance beauty services where I can choose my own hours. I work whenever my son is in school. My goal is to expand my business and work more hours once my son is in school full time.
When I received the funds, I was so happy, I cried. I feel less anxious and stressed because I am now able to take my son to his therapy sessions. Before this help, I felt that I was not even there when people would speak to me. My mental health was not in a good place but I feel less overwhelmed now.
With BIG:LEAP, I am able to spend more money on buying fruits and vegetables instead of carbs or fast food. Before, I would buy fast food because it is cheap and would keep myself and my son full. My goals are to focus on my son's therapy sessions, my health and building my credit to eventually purchase a home."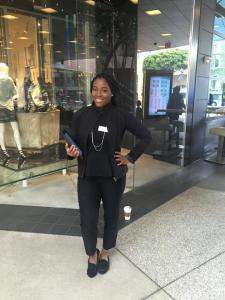 "When I received the funds, I was so happy, I cried. I feel less anxious and stressed because I am now able to take my son to his therapy sessions. Before this help, I felt that I was not even there when people would speak to me"